Muratti Cigarettes
Muratti Cigarettes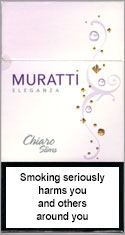 Muratti Eleganza Chiara Slims 100`s
Tar level: 1 mg Nicotine: 0.1 mg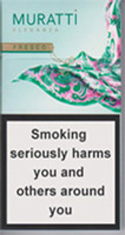 Muratti Eleganza Fresco Slims 100`s
Tar level: 5 mg Nicotine: 0.4 mg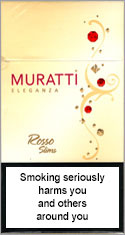 Muratti Eleganza Rosso Slims 100`s
Tar level: 5 mg Nicotine: 0.4 mg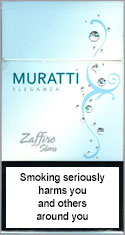 Muratti Eleganza Zaffiro Slims 100`s
Tar level: 3 mg Nicotine: 0.3 mg


Muratti Cigarettes bring light into your life
The most important fact about this brand is the "golden" balance between a well presented image and a good quality cigarette. See the most characteristic qualities of this brand that have won true smokers worldwide:
Smoking is a matter of individual perception of world. A person, who is seriously interested in smoking, knows that this is not just about inhaling tobacco smoke periodically. It's also about the sensation you get when you're holding a super slim 100's cigarette in your hands, about increasing your social position and, finally, about the way you move on in the world. It's a great choice for the UK buyers.
An intelligent cigarette pack contributes to your evident elegance. Muratti cigarettes, featuring a light, minimalistic design, with plenty of details are especially invented to bring light into your life.
Many people smoke only to demonstrate confidence to people around them. Muratti cigarettes are probably the perfect brand for such a deed.
The aroma of these cigarettes is delicate, yet has a saturated taste. The special mixture of natural tobacco is very beneficial for anybody's outlook. This is the key approach which can make smoking appealing even to non-smokers.
There's no aftertaste when smoking this brand of cigarettes. The only exception is the menthol variety, which creates the impression that you've just thrown away a menthol chewing gum.
Smoking Muratti cigarettes is an urban act; even so, there are people who enjoy these cigarettes on day by day and who are residents of a large metropolis or city. This is a symbol that the brand is flexible and convenient anywhere.