Richmond Cigarettes
Richmond Cigarettes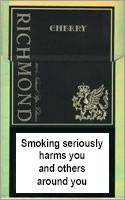 Richmond Cherry
Tar level: 0.8 mg Nicotine: 0.7 mg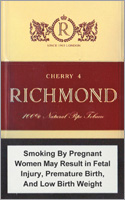 Richmond Cherry 4
Tar level: 4 mg Nicotine: 0.4 mg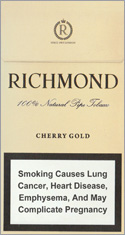 Richmond Cherry Gold Super Slims 100s
Tar level: 5 mg Nicotine: 0.6 mg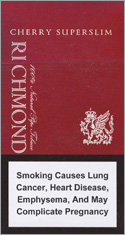 Richmond Cherry Super Slims 100s
Tar level: 5 mg Nicotine: 0.5 mg

Richmond coffee
Tar level: 5 mg Nicotine: 0.4 mg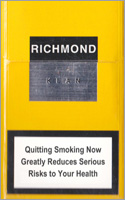 Richmond Klan
Tar level: 7 mg Nicotine: 0.7 mg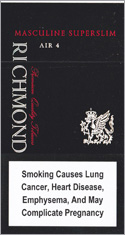 Richmond Masculine Super Slims 100s
Tar level: 4 mg Nicotine: 0.4 mg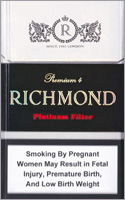 Richmond Platinum Filter
Tar level: 4 mg Nicotine: 0.4 mg


Richmond - a very fixed position in the tobacco market
Richmond cigarettes were launched in UK tobacco markets in 1999. Richmond cigarettes are very popular cigarettes brands and many people appreciate their top quality and provided freshness. Sovereign cigarette brand or Park Road cigarettes are the main competitors for Richmond cigarettes in the tobacco field.
The blue colored package is another advantage of Richmond cigarettes. Blue is a color of calmness and relaxation. Their general appearance is very appealing. In 2008 there was introduced a limited edition of Richmond cigarette packs under the title -Chill Edition-.
Richmond cigarettes occupy a very fixed position in the tobacco market. It is the second most sold smoking product after Lambert & Butler. Imperial Tobacco manufactured the Richmond brand in 1968. They were king size cigarettes with filter. Strickman Filter was used for Richmond brand because it was an innovative filter that helped reduce the risk of diseases from smoking. Imperial Tobacco applied only this filter for these cigarettes.
Our online shop is happy to offer you Richmond cigarettes at the most accessible price ever. Place your order right now as we have the best quality cigarettes to be delivered to you.
Reduced prices for Richmond cigarettes online are found on our cigarette store online.